It's Christmastime, you get a package in the mail. Who's it from? Grandma? You can't stand the excitement as you jam scissors into the tape. Maybe your 3 year old helps and gleefully rips the box apart. Suddenly...an EXPLOSION! Your excitement for the gift momentarily flags as you look around your littered living room.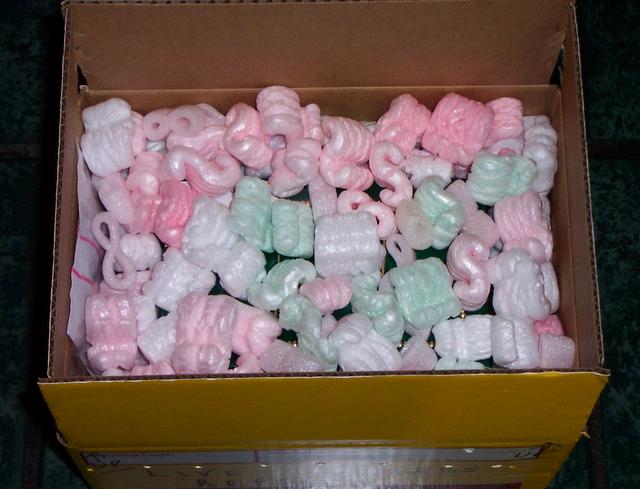 The bane of package-openers everywhere! Oh sure, kids and cats and static cling love them but the rest of the world, you think, would be better off without them. You resign yourself to cleaning up the mess, carefully pulling your gifts out so as not to anger the peanuts. Finally success presents itself to you and now you have a shiny new whatever from Aunt Fannie as well as a giant box of pink and green Styrofoam balls of death. How thoughtful.... Packing peanuts- 1, you - 0.
But never fear! For there is a solution in hand! In fact, this solution has been around for almost 2 decades but it seems not many people know of it. RECYCLE the peanuts! The Plastic Loose Fill Council has been working since 1991 to
"develop, promote and implement the original use and subsequent recovery, reuse and recycling of polystyrene loose fill, commonly known as "packing peanuts."" Who knew? They arrange drop-off sites as well as operate a hotline to deal with these little buggers. So check for a location near you and maybe next time, packing peanuts won't be so scary! (Still...keep the cat away from them. If you've never had to remove packing peanuts from a cat's fur, you've lived a privileged life).
Here are some locations in the Denver-Boulder area:
CENTENNIAL CONTAINER, INC.
13105 EAST 38TH AVE, UNIT 58
NEAR 1-70 AND PEORIA STREET
DENVER, CO 80239-3551
(303) 371-7700
---
I SOLD IT ON E BAY CO.
7506 EAST 36TH AVE, UNIT 450
SHOPPING CENTER
DENVER, CO 80238-3444
(303) 539-6915
---
Pak Mail
2075 S. University Blvd.
Denver, CO 80210-4300
(303) 744-6245
---
PostNet
1312 17th Street
Denver, CO 80202
(303) 595-0500
---
PostNet
200 Quebec St. Bldg. 300, Suite 111
Denver, CO 80230
(303) 340-0998
---
THE UPS STORE
1685 SOUTH COLORADO BLVD, UNIT S
COLORADO BLVD & MEXICO AVE
DENVER, CO 80222-4040
(303) 753-0888
---
Pak Mail




2525 Arapahoe Ave., #E4




Boulder, CO 80302-6720




(303) 444-0831







AIM MAIL CENTER
2205 W. 136TH AVE, STE 106
KING SOOPERS CENTER ON 136TH & ZUNI ST
BROOMFIELD, CO 80023
(303) 280-6245
---
THE UPS STORE
1685 SOUTH COLORADO BLVD, UNIT S
COLORADO BLVD & MEXICO AVE
DENVER, CO 80222-4040
(303) 753-0888
---